Trade the leading cryptocurrency Bitcoin on one of two regulated futures exchanges:

Bitcoin Futures
Symbol: BTC

Bitcoin Futures
Symbol: XBT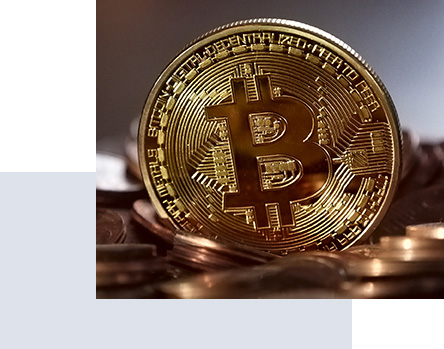 Our Expertise in Cryptocurrencies
Our expertise in the area of Cryptocurrency and Blockchain technology dates back to the end of 2013. Our Head of Advanced Securities, Sheri Kaiserman, was the first to commission and publish Bitcoin research through the firm's Equity Research team. Since then Sheri has become one of the firm's leading subject matter resources.

Bitcoin Futures at CME Group
Data delayed 10 minutes. Powered by CQG.
Bitcoin futures (BTC) are live at CME. Now you can hedge Bitcoin exposure or harness its performance with a futures product developed by the leading and largest derivatives marketplace: CME Group, where the world comes to manage risk.
Learn more about Bitcoin futures contract specs, margin, fees and the underlying CME CF Bitcoin Reference Rate (BRR)
Bitcoin transaction costs are rising, like in 2010 and 2013 when the cryptocurrency collapsed. Will the red-hot market weather the spike this time around?
The value of a bitcoin has skyrocketed by a whopping 6,000,000% over seven years. But is the digital currency still undervalued in comparison to gold?
Bitcoin Futures Contract Specifications
5 bitcoin, as defined by the CME CF Bitcoin Reference Rate (BRR)
Minimum Price Fluctuation
Outright: $5.00 per bitcoin = $25.00 per contract
Calendar Spread: $1.00 per bitcoin = $5.00 per contract
CME Globex and CME ClearPort: 5:00 p.m. – 4:00 p.m.
CT Sunday – Friday
CME Globex and CME ClearPort: 5:00 p.m. – 4:00 p.m.
CT Sunday – Friday
CME Globex and CME ClearPort: 5:00 p.m. – 4:00 p.m.
CT Sunday – Friday

Bitcoin futures are now available for trading on the Cboe Futures Exchange, LLC (CFE). CFE launched trading in Cboe bitcoin futures on December 10 under the ticker symbol "XBT". This brings many benefits to traders, including transparency, efficient price discovery, deep liquidity and centralized clearing. XBTSM futures provides a centralized marketplace for participants to trade based on their view of bitcoin prices, gain exposure to bitcoin prices or hedge their existing bitcoin positions.
XBT futures are cash-settled contracts based on the Gemini's auction price for bitcoin, denominated in U.S. dollars. Gemini Trust Company, LLC (Gemini) is a digital asset exchange and custodian founded in 2014 that allows customers to buy, sell, and store digital assets such as bitcoin, and is subject to fiduciary obligations, capital reserve requirements, and banking compliance standards of the New York State Department of Financial Services.
Bitcoin Futures Contract Specifications
Cboe Bitcoin (USD) Futures
Cboe Bitcoin (USD) futures are cash-settled futures contracts that are based on the Gemini auction price for bitcoin in U.S. dollars.
The contract multiplier for the XBT futures contract is 1 bitcoin.
Futures Symbol – XBT
Final Settlement Value Symbol – XBTS
The Exchange may list for trading up to four near-term expiration weeks ("weekly" contracts), three near-term serial months ("serial" contracts), and three months on the March quarterly cycle ("quarterly" contracts).
Interested in Trading Bitcoin Futures?
Let Wedbush Futures help you incorporate Bitcoin futures into your trading strategy.
Complete the form and a Wedbush Futures broker will connect with you to answer your bitcoin futures trading questions.